Recovery Residences Make a Difference
Moms in Recovery
The relationship between a mother and her child is one of the most formative influences in a child's life. When a mother in recovery is present to care for her children, she is modeling strength, integrity, responsibility, resilience, and love, breaking the cycle of Substance Use Disorder (SUD) for future generations.
70% of women who enter treatment for SUD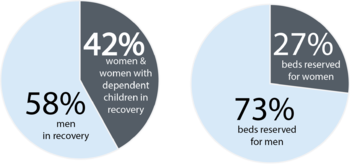 have children, and many are single mothers and the sole caretakers for their kids. In 2019, of the 953 Central Vermonters coming out of treatment, 438 of them were women or moms with kids who depend on their care. In the same year, there were 20 Recovery Residence beds available to support people coming out of treatment in Central Vermont. All 20 beds were reserved for men.
When you support this project, you are giving the gift of healing to families in need. Recovery Residences provide stable, supportive environments that promote recovery from SUD and other associated problems. The families who will benefit from this Recovery Residence will be coming out of homelessness and working hard to have a fresh start. You have an opportunity to have a lasting impact on countless women and children by donating to make this project happen. As a result, Central Vermont will be stronger and healthier, and this project can serve as a model for future projects around the state and the nation.
Barre Recovery Residence
The 2019 report "Housing: A Critical Link to Recovery" showed that Central Vermont needs more Recovery Residences for those coming out of treatment for SUD. Among those in recovery, the most under-served are women with children. In response, we are converting a three-story building in Barre into a sober living environment for up to six women and their children coming directly from homelessness. This stable, supportive, and sober environment will be a haven for single-mom families dealing with SUD. The home will be run by Vermont Foundation of Recovery, and the moms coming out of homelessness into the Barre Recovery Residence will continue their journey to sustained recovery without having to live separately from their children.
DONATE TO SUPPORT THIS PROJECT