Downstreet's Liz Genge Celebrates Her 20th Work Anniversary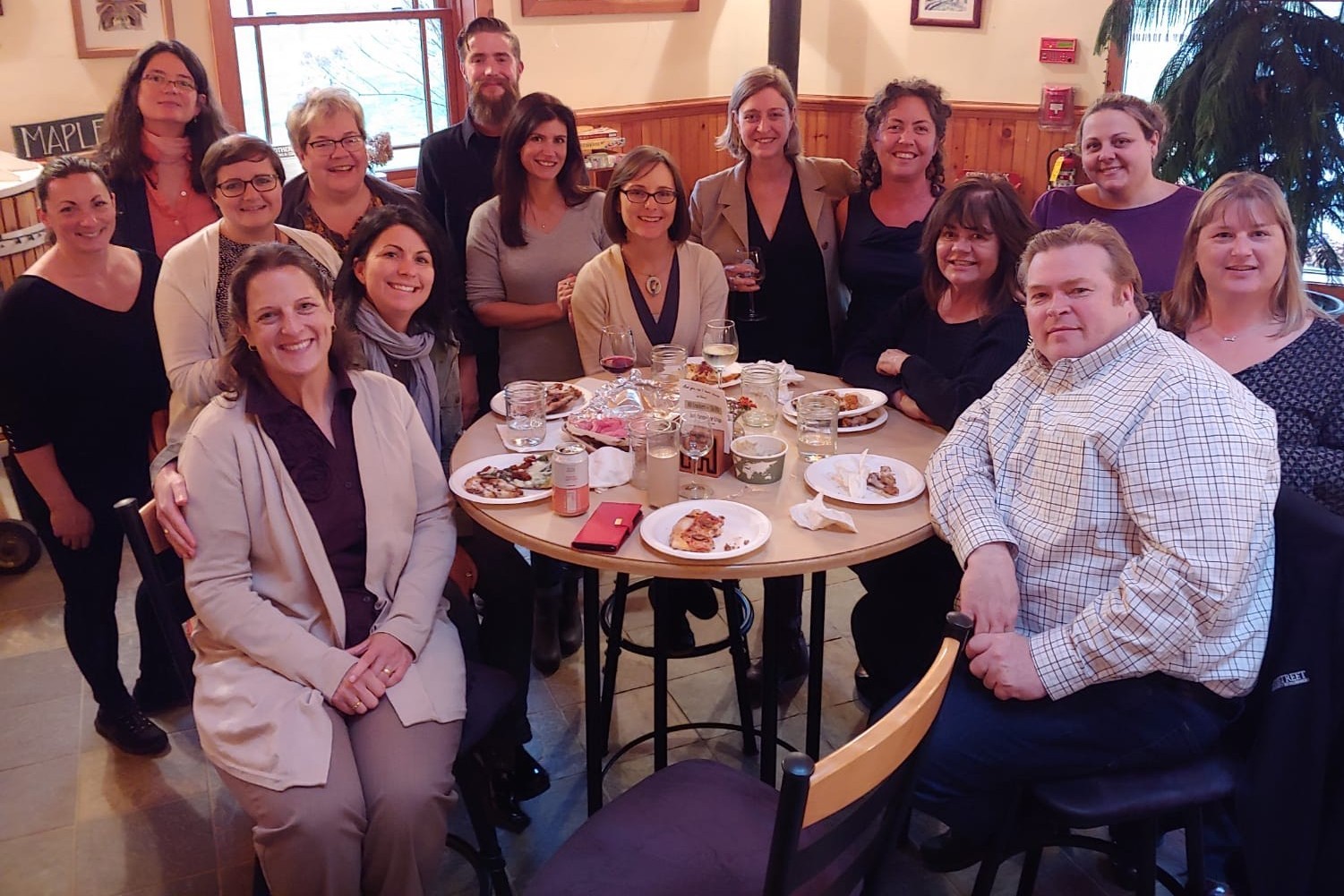 October 16th, 2019 marked 20 years of service for our Director of Property and Asset Management, Liz Genge. We sat down with Liz to talk about her dedication to serving up social justice through housing. Here is what she had to say, in her own words:
Q: What was your professional journey that led you to this work?
I moved to Vermont after I graduated college in 1997. I fell in love with the state. I lived in Stowe, waited tables and bartended, skied a lot, and I liked doing that, making people's vacations fabulous. It just wasn't enough for me. I needed something more meaningful.
When I was in college, President Clinton spoke to Rutgers about the AmeriCorps program, and he inspired me to pursue public service. I went online and I found AmeriCorps through VHCB, and in 1999 I got an interview with Lamoille Housing Partnership. They didn't choose me as their AmeriCorps,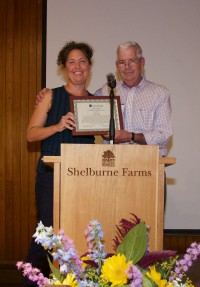 but they recommended me to Martin Hahn, who was at [Central Vermont Community Land Trust]. I had an interview with Martin and it went really well, and I thought, gosh, what a great group of people. I got selected to be an AmeriCorps member there, and I just got to know the residents in Montpelier really well, and helped them navigate property management stuff.
I did AmeriCorps for two years and paid off some student loan debt, which I was very grateful for. Then the property manager at CVCLT was leaving the state, and my boss told me that he thought I was the right person to shift into that role. I felt very supported and seen and heard – I felt like I fit right in.
Pictured above: VHCB's Martin Hahn presents Liz with the John Nutting Community Catalyst Award in 2017.

Q: How do you reconcile your desire to have a job that has a positive impact on social justice and real people with the paperwork and regulations that go along with that?
It can be very frustrating to deal with a lot of the compliance requirements. I like to try to keep my people "true north": this is what we're doing this for. We're not working for HUD – we're working for the community. Sometimes that can be especially challenging, but I feel like in my role, managing the property management team, I can balance the need for compliance regulations and focus on our mission.
Q: What influence has this work had on your perspectives on the world and the people we serve?
Living in Vermont, all my family was nowhere near me and doing this work, I had this group of people I had built relationships with from my AmeriCorps days, who lived in our properties, who were mostly a little bit older than me, and I lost my mother when I was 17, and I just felt like I was surrounded by supportive people in my work life. In the office as well, but the residents I worked with generally speaking over the years, what I have come to know as truth is that nobody is more generous that someone who is dealing with poverty. And I had no idea, because I never had that experience, and now I'm seeing that the quality of the relationships, especially at this time in my life, were just stronger.
I think that working here has helped me to see that people are the priority. I hope that in my role I'm able to improve at least the quality of the living standard,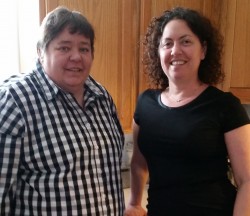 and sometimes there are households where there are a lot of problems. You know, there might be trauma – what we can do is at least do our best under our control to make their home beautiful. We can connect them to resources. It's a special thing because it is a profession, and there's room to grow, and there's some advocacy around it, but you're also in people's homes, and you get to have relationships with them. So I think it's a lot of variety, and it's changed over the years.
Pictured above: Liz visits with Hillside Shared Housing resident Kelly Hoyt in 2015.


Q: What has kept you at Downstreet for 20 years?
First of all, we keep growing and I felt needed. And it's a great company to work for. I've always felt supported. You know, it's "you need to make sure you're meeting your objectives," and "what else interests you, Liz? What other trainings might you be interested in?" It's just been a place where I haven't felt the need to want to leave. As things evolve and change, and we have new properties and different types of properties, and my role has changed over the years, too. I just feel like it's a part of who I am.
Q: If you could wave a magic wand and solve one issue related to housing, what would it be?
It's concerning that people might not have a lot of choice. You know, we have some great choices, but people might want to be in a certain community, the choices available can be a little bit limiting. So I'd want to have more choice of the housing types and locations while keeping it affordable. So that people really feel like, gosh I have some nice choices here, and I can make the life I want and I deserve that.
Liz currently resides in Montpelier and enjoys cooking for her friends and family.
Next Blog Post
It's Official: The Taylor Street Apartments are Open! The afternoon of October 25th wasn't just a typical Friday in downtown Montpelier – it was the day that over 550 people walked through the Taylor…