Downstreet's Contribution to a Sustainable Future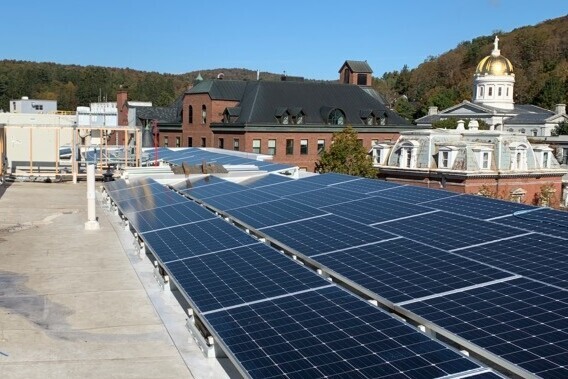 Downstreet is committed to social and environmental justice, and we do everything we can to support and enhance Vermont's efforts to reduce the impact we have on our environment. In our day-to-day operations, we follow "green" practices that were officially established years ago when we became recognized as a NeighborWorks Green Organization. In our real estate development work, we focus on the renovation or replacement of existing buildings for our projects, rather than building on undeveloped land, whenever we can. And, we provide our residents with information and support for reducing their energy usage.
But in spite of all of our State's efforts to reduce waste in landfills, to keep our water sources clean, and to eliminate single-use products like plastic bags, one of the biggest contributors to climate change, especially in Vermont, is fossil fuel emissions from transportation. Being a rural state, many of us rely on our vehicles to get us from place to place, and that adds up to a lot of greenhouse gases being pumped into our atmosphere. This highlights the need for better access to public transportation in our state, in order to provide an alternative to private vehicle usage. This was one of the factors considered in the development of our Taylor Street Apartments in Montpelier, which sits atop the Montpelier Transit Center.
Placing high-quality, mixed-income apartments close to downtown Montpelier shops and restaurants, with easy access to train and bus service just made sense for us. Combined with the building's net-zero energy status, the project emphasizes our commitment to a healthy planet and to providing access to transportation for our residents.
In addition to Taylor Street Apartments, many of our properties include domestic solar hot water heat, wood pellet boilers, Nest thermostats to maximize energy efficiency, and other environmentally conscious features. To learn more about our real estate development projects, visit our housing development projects page.
This story was featured in our monthly newsletter. To get stories like this delivered directly to your inbox each month, click here to sign up!
Next Blog Post
Vermont's Global Warming Solutions Act legislation was introduced in January before the COVID-19 crisis hit Vermont, but State Legislators were determined to pass the bill in response to increasing scientific…